Posted in
Brevard County
,
Celebrity
,
Chopper Builders
,
Florida
,
Law
,
Local
,
Melbourne
,
Motorcycle News
,
Motorcycles
,
News
on August 15th, 2009
Judge Burger began motorcycle builder Billy Lane's sentencing hearing today by stating that he had accepted the plea of no contest to the charge of vehicular homicide submitted to him on June 9th. He then asked State attorney Tom Brown to start with his opening remarks and recommendations for sentencing. Brown began by submitting a score sheet to the court and the reading off several incidents where Billy had been ticketed for speeding and other traffic violations in an attempt to show that this was not an isolated incident. Tom Brown remarked that these incidents of recklessness showed that this was not an isolated incident, but a pattern where someone was bound to get hurt.
Brown went on to graphically describe the recreation and scene of the crash that brought tears to the eyes of both the Morelock family and Billy Lane. Prosecuting attorney Brown showed aerial photos of the crash scene pointing to the clearly marked double yellow line and pointing out that Mr. Lane had several opportunities to get back into his lane. The results (Brown said) of Mr. Lane's reckless behavior ended the life of Gerald Morelock. The law states that when you take the life of a human being, you go to jail and that is what we are asking for today your Honor. Brown recommended that the judge stay within the criminal guidelines and Lane be sentenced to 111.15 months in prison, which equates to just over 9 years. In a few moments you will be hearing testimony from the members of the victim's family, Mr. Lane intends to speak and others are here to appear on his behalf. However, the defense has the burden to prove two things. They need to prove that this death was not a sophisticated homicide and that it was an isolated incident. Indeed, if this can be proven, than the court would be allowed, at the Judge's discretion to downgrade the recommended sentence. State Attorney then rested and turned the floor over to Defense attorney Gregory Eisenmenger.
The court room was filled with people in support of Billy lane including Hugh "The Chopper" King, Executive Co Producer and emcee of the television shows Biker Build Off and Motorcycle Mania. Some had a chance to speak, while others where there just to show support for the celebrity motorcycle builder Billy Lane. The general consensus was that Lane could do more to have a positive outcome of the incident if he were not incarcerated by giving back to the community by way of public service announcements and helping to build a non-profit memorial in the name of Gerald Morelock.  There were several who made statements on Billy's behalf including his Father Warren Lane. Sean Morelock, who has been most affected by the death of his Uncle Gerald said that he had come to realize that Lane could do positive things to help children and felt that would have been what his uncle would have wanted.
 Gerald's brother, Byron Morelock also spoke saying that it was not necessarily his opinion, but thinks his brother would have wanted good to come from the incident. Both Sean and Byron said that the final decision of Lane's fate rested in the hand of the court.
Billy Lane was then called to the stand and sworn in to make his statement. This would be the first time that Lane had spoken openly to the public about what happened and his feelings. Billy started out by saying I am here today to show everybody who I am, not who you think I am. Lane showed a great deal of remorse and came to tears on several occasions. He described how he had to pass by the spot where he killed Gerald Morelock almost every day and how he prayed for his soul and his family. Billy Lane admitted that he had made a bad decision and was not asking for pity for what had happened. He said he was sorry and asked forgiveness for taking the life of another human being. He stated that he was ready to accept the court's decision and accepted responsibility for the death of Gerald Morelock. Though Billy showed a great deal of emotion during the hearing and when he spoke. He showed very little expression as his sentence was read.
After hearing all the statements of sending a message and using Lane's notoriety in a positive way, State Attorney said that a message like this is like a double edged sword. He remarked that children where mentioned several times and that we should think twice about this. Do we want to send this message that could be interpreted differently by the demographics spoken of? The message could be also interpreted to read that if I grow up to be a celebrity, I can get away with bad things. This is not the type of message we want to be sending out to our youth.
After hearing from both sides and with no further statements, Judge Burger recessed for 20 minutes to makes his decision. When the Judge returned, he stated that he found that this was an isolated incident and therefore had opted to downgrade the sentence recommended by the State guidelines. He did agree with the State as to not wanting to send out the wrong type of message and asked Billy Lane to rise. With the downward departure, Judge Burger sentenced Billy Lane to 6 years in the custody of the Department of Corrections to be followed by 3 years of probation. The Judge also suspended Lane's driving privileges for life along with orders to pay court cost and cost of investigation. The Judge had also sentenced Lane to take a DUI driver awareness class, but later dropped that provision when Eisenmenger stated that Mr. Lane had already completed the class.
Billy Lane was the taken into custody and escorted out of the courtroom with his family and friends shouting we love you Billy.
Edit: I am adding a video that I shot using my Canon Power Shot. It took me a bit to convert and as you can see my regular job set me back on getting this story posted to bein with.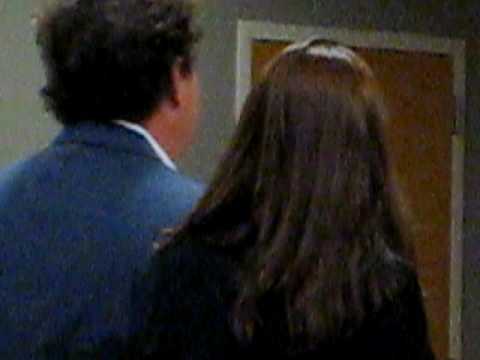 Technorati Tags: billy lane, motorcycle news, motorcycles, law, court, sentencing, melbourne, florida