Posted in
Editorial
,
Florida
,
Internet Video
,
Journalism
,
Military
,
Motorcycle Events
,
Motorcycle News
,
Motorcycles
,
National
,
Opinion
,
Politics
,
Rants and Raves
,
Sanford
,
Titusville
on August 28th, 2010
I try to stay away from political commentary on this blog, but I am making this post for a few reasons.
I recently read a news article that is still eating at me (to be discussed below)
I have not made a post in a long time. I have been busy.
There are a lot of things going on in this country that can't continually be overlooked.
This post is about dignity, dying , veterans and a motorcycle organization of honor.
Recently I stumbled across an post entitled Obama Tells Patriot Guard Get Lost. Yes, it is kind of an old article, April of this year, but not old enough to raise a valid concern over it. First off, the title of the post is a little misleading as no one apparently no for sure who called off the Patriot Guard Riders from being allowed. One thing was for sure the families of the 29 miners killed in a West Virginia mine accident asked for and welcomed the riders. Evidently so did the Governor of the state. So to set the scene a little better, on April 5, 2010 there was a huge coal mine disaster that took the lives of 29 miners. A memorial was planed for late April and the families of the miners asked the Patriot Guard Riders to attend and escort with honor their loved ones. Somewhere along the line a message was sent that the Patriot Guard were to "stand down" for this mission as Obama and Bidden were to attend. Again, no one has come forward with who actually issued the order, but I am sure it was relayed through the secret service.
Whoever made the decision is under a huge misconception on what this group of people stand for and exactly what it is that they do. They certainly would not have posed any type of a security risk for Obama, if anything security would have been tighter. They are a nationwide organization many of which are law enforcement officers and veterans. What possible threat could they have posed. Did they see them as a motorcycle gang, just because they ride motorcycles? Was there some sort of paranoia fear that some rival gang might ride in and have a big shootout? By far, the Patriot Riders are not a gang, they are motorcycle riders period. It is the mode of transportation that they choose and I speak from experience when I say that they add a great deal of honor and dignity to a funeral procession and memorial. My brother died on the streets a homeless vet in July of 2005. I asked the Sanford Chapter of Rolling Thunder if they would give my brother Lonny one last ride before I scattered his ashes in the water at the Veterans Memorial Park in Titusville. My brother loved and respected the grounds of this park and spent a lot of time there. On the day of his last ride along with Rolling Thunder there were also members of the Patriot Guard riders. I have the deepest respect for what they did that day and how they honored my Brother. I have some pictures of that day that I would like to share with you, this is what the Patriot Guard is
These people took the time out of their life to honor my brother and asked for nothing in return
over 30 motorcycles lined up for the memorial service
A short service was given before I set my brother free
 This is what the Patriot Guard Riders mean for me. They brought honor and dignity to the last ride and memorial service for my brother Lonny Odom. For the families of the 29 miners to be denied the same honor and respect was wrong. Whoever made the decision not to allow these people their rights were very wrong. My heart goes out to the 29 men who lost their lives and the loved ones they left behind. Now I share with you a documentary on the Patriot Guard Riders, who they are and what they stand for. How could these men and women have been considered a threat?
So now those who did not know may be a little wiser as to not only the Patriot Guard Riders and groups like Rolling Thunder, but the entire biker community in general. Respect is always given were respect is due. One more video of a funeral escorted by the Patriot Guard below. This video brings chills to me, just to see the endless line of motorcycles following in honor of a fallen military hero that has paid the ultimate sacrifice.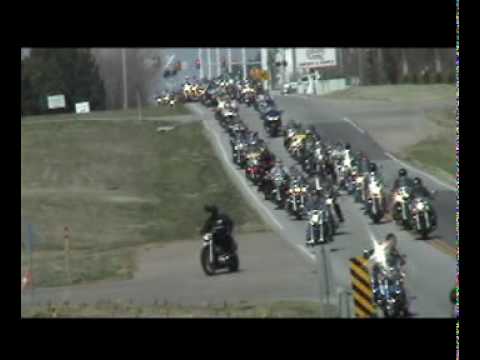 Thanks again to those who came out to honor my brother, this post has been a long time coming. You don't have to support the war folks, but always support our troops!
Dedicated to my dearly loved brother Marvin Lonny Odom
Technorati Tags: motorcycles, patriot guard riders, rolling thunder, funerals, veterans, west virginia, mining disaster, politics, security, honor