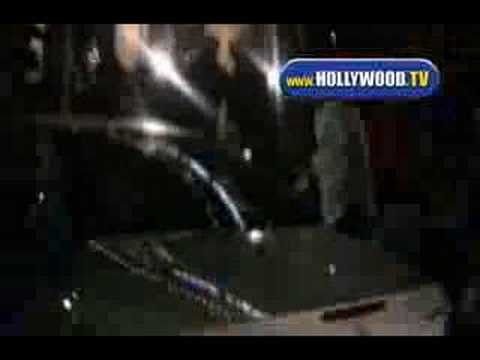 There are other (shorter) videos of this crash scene, but they do not show Britney and Adnan driving off. Adnan was driving Britney Spears Mercedes after leaving a well known deli together when he bumped a motorcycle causing him to crash. This crash just happened a few hours ago in Hollywood, California as Britney Spears and Adnan Ghalib were being followed by tons of paparazzi. Adnan just asks one of the other paps to get the rider's info and then says he has to go.
Britney asks if the guys is alright, but then just goes into conversation with one of her followers. The whole time the poor guy who was riding the motorcycle is looking dazed from just being hit. It will amaze me if Ghalib does not get it for hit and run. He certainly does not seem to have a lot of care, but does speed off as if he knows he has done wrong. Watch the video and decide for yourself.
Update: Okay, I found another site that shows the two exchanging information in pictures at http://finalpixxceleb.com/index.php?entry=89 the site also claims that the motorcyclist was heard to say several times that he was at fault. They also claim that there will be a taped interview with both the motorcycle rider and Adnan explaining what happened.
The original story was found on X17online  and the video is courtesy of Hollywood.tv posted on Youtube.com

Technorati Tags: motorcycles, crash, britney spears, celebrity, adnan ghalib, breaking news
Related Posts:
...
...
...
...
...